So, what's been happening...
Just saw

Mick Malloy

blowing chunks as he listened to Paris read poetry. Good God was that embarrassing! No, not publicly acknowledging my status as sole viewer of The Nation - hey, that's the only bit I saw - Paris waxing soppy-lyrical. I really have no words… if only the same could be said for her.
To prove that I'm as good as any

celebrity

I threw my mobile yesterday… No, not at my humble, cringing PA… no, not at some innocent hotel clerk... OK, fine, guess I'm not up to celebrity standards. I just threw it across the room. It finally broke this time – my phone often cops a beating cause people keep ANNOYING ME through it! It also receives a surplus of evil glares (probably from callers too as people consistently have to leave messages lately – well I don't bloody have to answer my phone if I don't bloody want to!! Note: smashing phone in two is equally effective).
I had a lot of

needles

stuck about my person again. These ones really stung, kinda good though cause then I feel they're going to work and I'm getting my money's worth. The acupuncturist is focusing on my heart now. Apparently my pericardium is letting too much info through, overwhelming the heart and the heart is not doing its job. He compared the heart to the PM; is like John Howard he said, in charge, getting the rest of the body organised. He said it's doing a shit job and we're going to replace it (voting Labor this year are we?). It's also empty (no surprises there if you've been reading my blog lately)! In addition I have little fire in my body. Redcap recently mentioned my lack of inner redhead when I complained about the surplus of blondes in my quiz results. So, to encourage my inner fire, my inner redhead…
I've dyed my

hair

. Very, Very

RED

. I wanted

punk red

. Extravagant red. It's not quite as eye-catching as I'd hoped (he would have needed to do more bleaching than he did, and it's tricky, etc) but it's pretty damn bold and fiery which is good. Am pleased. Also got him to cut half my locks off while he was at it. It was about halfway down my back, now it is just above my shoulders, heavily layered and very stylish; swish! La. dee. da. Feels much better. I was giving long locks one last try (before getting too old!) but it really didn't suit me. I looked a bit blah: there's me… and then there's my hair, like some separate entity. We each looked pretty good, but put together not so great...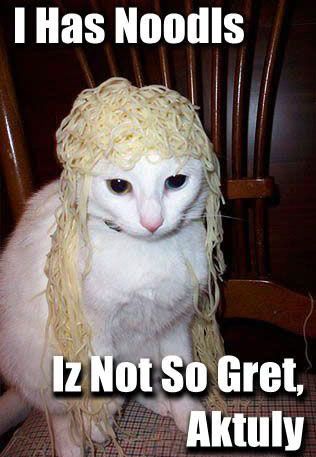 kitteh understndz...